Thread Lift
Conveniently located to serve San Jose, CA
Threadlift for non-surgical face lift
A thread lift is a safe and effective treatment that can lift and tighten loose skin to give the face a smoother and more youthful appearance without having to trim or surgically remove skin. At Jenesis Lipoplasty and Laser, our expert medical providers can provide you with amazing results from your thread lift in San Jose.
Thread Lift Basics
Thread Lift is accomplished by using tiny surgical PDO (absorbable) sutures to lift and support droopy elements of the brow, cheek, jowls, and upper neck, without removing any skin. Different sutures and lengths will be used depending upon the area(s) you need lifted. All sutures are FDA-approved and are used in all medical procedures requiring permanent or non-permanent sutures.
The only difference with these sutures is that some are "barbed" for specific facial lifting effect. This absorbable thread has barbs on the entire length that are inserted under the skin to gather tissue to fill out and lift the cheeks and sagging skin. No incisions or stitches are required, and no scars are produced.

Barbed Suture
The threads are inserted under the skin in precise locations using a small hollow needle. The inserted thread is then able to grasp onto the droopy skin and soft tissue. With the lift effect secured, the hollow needle is removed without leaving any scars. The end of the thread is cut off very short where a loop is tied securely and the knot cut, allowing it to retract deep under the skin where it cannot be seen or felt. The threads used during the Thread Lift procedure stay within the deep fat and subcutaneous tissue for 6 months to 1 year, as they are absorbable.*
Thread Lift Recovery
The recovery process following your thread lift in San Jose should be relatively easy and quick. Some soreness and swelling can be expected around the face but should only persist for around a week or so. Most normal activities can be resume after one or two days.
*Individual results may vary.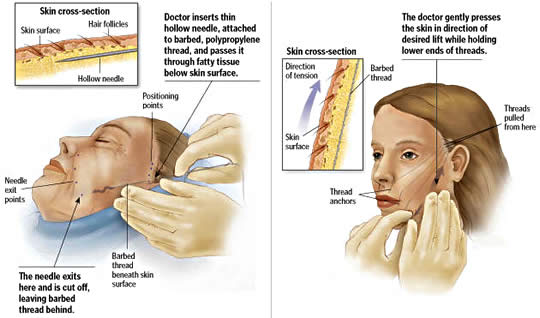 Example of cheek/jowl lift
Is a Thread Lift Right for Me?
Thread lifts emerged because many people — perhaps you — would like a facelift, but can't afford it or don't want the long recovery time of the standard facelift. Thread lifts have decreased in popularity, but in proper hands they can still be a useful tool. It is perhaps better considered as a lesser, or preliminary procedure. Thread lifts cost less and require less downtime for many people. Dr. Jane Chung can answer any questions you may have and can let you know if you are a good candidate for a thread lift in San Jose during your consultation.
Before and After Pictures
Notice:
All pictures are of actual patients of our practice who have provided consent to display online. Viewers should understand that results do vary and not all individuals achieve the results depicted here. The following pages contain some nude images. By clinking on "View Images" below, you are acknowledging that you are over this legal age of 18 and are consenting to view these images.
Thread Lift Cost
Thread lifts are a more affordable option compared to surgical procedures like a facelift or neck lift. Dr. Jane Chung can let you know what the potential cost of your thread lift in San Jose will be during your consultation and can go over the payment options we accept.
Schedule a Consultation
Contact our office today to schedule a consultation with Dr. Jane Chung for your thread lift in San Jose. Jensesis LipoPlasty & Laser provides treatments to patients throughout San Jose, San Francisco, Bay Area and out of town.
*Individual results may vary.

Frequently Asked Questions
Q. Who Should Consider a Thread Lift?
A. Good candidates for ThreadLift are those patients who are starting to see some droopiness of the brow, cheeks, jowls and/or neck and would like to see a lift effect, but do not want the risk, scars, or recovery of a real browlift, facelift, or necklift operation. The ThreadLift may be combined with other, more minor surgical procedures, such as blepharoplasty (lid lift procedures), face and neck liposuction, microfat transplantation, Botox, Injectable Fillers, Ultherapy, Fraxel, or Active FX laser treatments.Other thread lift candidates include those who have had some relapse from a previous
plastic surgery
procedure such as a facelift or neck lift AND those who want to have more improvement for her jowls after Ultherapy.
Q. What areas does the Thread Lift treat?
A. Good candidates for Thread Lift are those patients who are starting to see some droopiness of the brow, cheeks, jowls, and/or neck and would like a lift effect, but do not want the risk, scars, or recovery of a real browlift, facelift or necklift operation. The number and placement of the threads depends upon the specific area(s) being treated.
Q. What to Expect With Thread Lift?
A.
Thread Lift Step By Step
Before treatment, you will meet with Dr. Jane and staff to determine if Thread Lift is right for you. Determining factors will include age, skin condition and desired results. You must be in overall good health in order to have the procedure.
Step 1: Patient Is Relaxed
The first step is to administer a local anesthesia. You will remain awake, yet relaxed and unaware of any pain or discomfort.
Step 2: Physician Makes Incision
A tiny incision will be made in the temporal region just above the hair line or in front of the ear.
Step 3: Insertion of Sutures
Using a special device, the absorbable barbed sutures are inserted into predetermined locations on the mid to lower face. Depending on the desired lift, one or several sutures will be inserted.
Step 4: Repositioning the Skin
The Sutures are pulled tight to give the desired lift and cut or anchored in the temporal region.
Step 5: Closing the Incision
The incisions are very tiny. They do not require any stitches. In most cases no dressings are necessary. The physician will review any special care instructions.
Thread Lift Post-Op
The entire procedure takes about one hour. You will be able to leave the office immediately. The most common side effect reported is temporary soreness in the incision site. You can return to normal activities in two to four days. Full recovery is expected within 3-6 days.
Q. What kind of results can I expect from a Thread Lift?
A. The Thread Lift effect is immediate. During your consultation, Dr. Jane can discuss the relative amount of lift that the ThreadLift procedure will likely deliver for you. Most Thread Lift results will be pleasing and noticeable for years, but your skin will continue to age and/or droop over the years. As the aging process continues, additional threads can be inserted for more tightening. Additionally, if you elect to have a more intensive surgical procedure or facelift at a later point, this can be done without any problems from your absorbable PDO threads since those threads will be absorbed completely.
Q. When do I see Thread Lift Results?
A. The results of Thread Lift are immediate. Right away, you will notice improved fullness in the face with greater definition in the contours of the face and jaw. Thread Lift has proven to last up to 1 year in most patients. A quick, outpatient maintenance procedure can help to extend these results for an additional two to three years.
Q. What are the risks or complications?
A. Like any procedure using a needle, there is a risk of bruising and swelling, which should last about a week. Some patients may experience tenderness and puckering of the skin at the end points of some threads, but both will resolve within a short amount of time.