Meet Dr. Jane Chung
Art is what motivated me to become a doctor in the first place
Body & face recontouring with liposuction (lipoplasty) or filler are two main cosmetic procedures that require artistry. These procedures excite me because I can use my artistic talent and medical knowledge.
– Dr. Jane Chung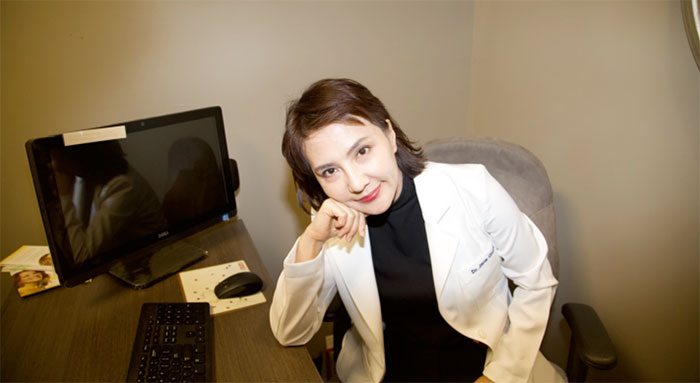 "The idea that I could apply my artistic talent to change peoples' bodies, faces and lives has fascinated me since a young age. After all the medical education and training, I found out that LIPOPLASTY, LIPOSUCTION, AND LIQUID FACELIFT are highly exciting and rewarding procedures for me because I can utilize my top notch medical training as a cosmetic surgeon and also use my artistic talent. I am very proud that I can give self-confidence back to all my patients. I am truly happier than them when I see them satisfied/pleased with their results.
Technology changes every day. I am eager to catch up with any new technological advances and adopt in my own practice. I have a passion for treating my patients as I would like to be treated. As such, I have tried all the procedures on myself and I do it for my patients only when I am very confident in the results. I really love to watch them get refreshed and confident in their own body and mind. Also, I have very caring staff to enhance my practice and to bring out patients' natural beauty at my state-of-art facility. In my office in all aspects, big or small, I put in my best effort for my patients" Dr. Jane said.
Dr. Jane Chung is the founder and medical director of Jenesis Lipoplasty Drawing on more than 20 years of medical experience, Dr. Jane has transformed Jenesis Lipoplasty into a leading provider of liposuction with Smartlipo Laser, Fractional CO 2 Laser, RF, MicroAire and Vaser technologies. She is an expertise at Non-surgical Male Enhancement and Liquid Facelift.
After having more than 20 years of experience in cosmetic surgery as a board certified pathologist,* Dr. Jane's knowledge, artistry and innovation can help you bring out the natural beauty of both your skin and your body. Dr. Jane believes that each patient should have the personalized attention they deserve and the latest non-invasive options available to give them the natural and very best look. Dr. Jane not only deeply involves herself with every single one her patients; she also actively participates in American Academy of Cosmetic Surgery, American Society for Laser Medicine and Surgery, International Society of Cosmetic Dermatology, Korea Academy of Aesthetic Surgery & Medicine. With her medical degree from Kyungpook National School of Medicine in South Korea (1989) and a post-doctoral training from the UCLA/VA Medical Center in Los Angeles and the SUNY Brooklyn /St. John Hospital in NY for her internship and residency, Dr. Jane's professional medical career spans the practice of liposuction surgery, minimally invasive cosmetic surgery, laser surgery, and cosmetic dermatology. As an early adopter in the emergence of laser medicine and surgery, Dr. Jane has amassed industry-leading training in the latest laser procedures such as Smartlipo™ Liposculpting, Vaser™ Liposelection and various fractional resurfacing. Dr. Jane has been voted the best Liposuction Surgeon by San Jose Magazine and the Best Plastic Surgeon in Bay Area in 2011 and 2018 by Metro Magazine. For the second consecutive years, Dr. Jane has been selected for the 2007 and 2008 Best of Award in the Cosmetic Dermatology category by the U.S. Commerce Association (USCA). All these awards place our practice among the leading providers in liposuction surgery, non- surgical male enhancement, and laser skin rejuvenation. As a cosmetic physician and pathologist, Dr. Jane has positioned herself as one of the most respected physicians and innovator of safe and effective non-surgical rejuvenation treatments. After her residency trainings, she has spent numerous years with world-renowned plastic surgeons and dermatologists in Europe, Asia and America. Dr. Jane has also received advanced trainings in minimally invasive procedures, such as SmartLipo and Vaser Liposuction, autologous fat transfer, Ultherapy, Microaire liposuction, laser eye fat pad removal, and nonsurgical-liquid face lifts.
Dr. Jane is continuously searching for safer and better methods of body sculpting and facial sculpting with her background as a pathologist. Dr. Jane always is looking forward to discuss your best customized options that can improve your self-confidence. Schedule your complimentary consultation today to begin your journey to looking and feeling your best.
*Korean Medical Board